McDonald's claims to be first UK company to commit to 'closed loop' recycled uniform, designed by Wayne Hemingway's Worn Again label in time for 2012 Olympics.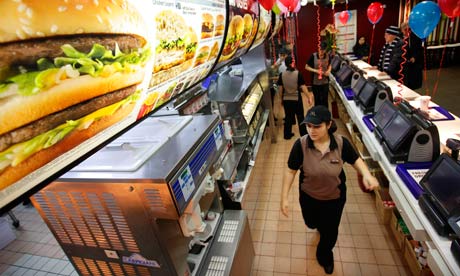 McDonald's employees wearing the current, Bruce Oldfield-designed uniforms.
It is the UK's largest fast food restaurant and one on a controversial 'green' mission. After sprucing up its old-fashioned outlets with a trendy makeover programme, McDonald's announced on Friday that it is handing eco designer Wayne Hemingway 'carte blanche' to design a brand new, 100% recycled uniform for its 85,000 restaurant staff.
Out will go the dull and instantly forgettable black and mocha combo created (surprisingly) by royal dress designer Bruce Oldfield three years ago. In will come a new look, as McDonald's claims to be the first company in the UK to commit to introducing a 'closed loop' recycled uniform. In a ground-breaking move spearheaded by Hemingway's upcycling company Worn Again, clothing will be collected in store, reprocessed into raw materials and then made into new uniforms.
The move is part of the chain's longer-term green strategy across all sectors of the business. Stung by criticism of corporate greed and questions about its environmental credentials and the value of so-called 'McJobs', the chain – one of the UK's biggest employers – has been hitting back with a series of green and social initiatives.
The new uniform designs will be unveiled next year before the start of the London 2012 Olympic Games, and the company's top-performing employees selected to work at the four McDonald's restaurants on the Olympic Park will be the first to wear it. After the games, the new designs will be rolled out to all 1,200 restaurants.
Jez Langorn, vice president of people at McDonald's UK, said: "Our people welcomed three million customers a day into our restaurants and they are at the heart of our business. We invest in them to provide nationally recognised qualifications and flexible working – just as important to them is the uniform they wear. "
He said the chain was "delighted to be working with a British design team led by Wayne Hemingway in the creation of a UK first – the closed loop recyclable uniform. Our staff share Worn Again's commitment to sustainability and I hope that together we can create a uniform design model for the future which others can follow."
Hemingway, who with his wife Gerardine co-founded the acclaimed Red or Dead label, said: "The collaboration with McDonald's fits with what we stand for – great design that goes hand in hand with long-term sustainability. This is a bold commitment from McDonald's, and one that we are delighted to be part of. But as well as being a move towards sustainability, these clothes need to feel fabulous to wear. The next few months are going to be busy, as we work on creating a young and fresh look for McDonald's employees, to be unveiled in time for the London 2010 Olympic Games."
Worn Again has been turning waste to wealth since 2005, starting out in consumer products and making footwear, bags and accessories from disused textiles from large companies such as Virgin Atlantic and Royal Mail.
Among its recent innovations is a train manager's bag, made from decommissioned Eurostar staff uniforms, which has just been unveiled for use  for the first time by train staff working on the London to Paris and Brussels trains.
Cyndi Rhoades, chief executive officer of Worn Again, added: "It's important for small companies like us to work with big brands to create economies of scale and bring about real change across a variety of sectors."